Frequently Asked Questions
About Reservation
Q : May I know the number of photo selection for sisterhood wedding gown is total numbers per group or per person?
A: It's total number of group photo per group
Q : Can I postpone my reservation date if I found that I have other things to do on the same date later?
A: Postponement strictly only allowed ONCE and by informing us at least 21 days in advance.
Q : Can I cancel my reservation date if I found that I have other things to do on the same date later?
A: Cancellation is strictly NOT allowed and no refund will be entertained
Q : The shooting I am looking for is not in the reservation option, what can I do?
A: You may fill in the contact us form at
here
Q : May I know why some of the dates are not available for selection ?
A: Date which we have already been fully booked would be greyed out and not able to select
Q : What means "How many photo" ?
A: It's Total Number Of Edited Photo selected out from all the shots.
For example, if you choose 10 Photos, we will shoot around 100 shots (Some might be duplicated posing since we're capturing several shots to get best shot)

You can add extra photo later after photo shooting done too !
Notes : All Original Copies we're not giving to customers since that's photographer's draft, anyway, we are selling all basic edited copies in bulk (You may add-on in next step)
Q : Which package should I choose?
A: We've divided our photography packages into 3 categories which is Portrait, Wedding & Event

Event & Wedding Package mainly for occasion like company dinner, birthday party, road show, concert etc, charging hourly, all photos taken would be returning to customer after basic editted. Portrait Package
-----------------------
Personal - Individual indoor/outdoor shooting for non-commercial/non-business use.
Couple - Casual indoor/outdoor shooting for couple, for non-commercial/non-business use.
Sisterhood/Friendship - Number of photos are Photo Per Group, shall you need personal shots, you can request to the photographer on the spot and you can add extra photo later when selecting photo
Family - One family per package basis, only 1 clothing per package, add extra costume at add-on page for more clothing.
Baby/Kids - One baby/kid per package basis, we will take 2-3pieces photo with parents too.
Newborn Baby - Photoshooting for newborn baby borned within 10days, we provide all props for photo shooting.
Pre Wedding - Formal + Casual shooting for pre wedding couple.
Commercial/Corporate - Photos can be commercial or business usage, can be personal or group photo.
Q : What means "Extra Location"?
A: For example, you have selected indoor studio for photoshooting, but you would like to add one more outdoor location, you may add-on an Extra Location at Add-on section
Q : Which delivery method should I choose ?
A: If your selected package only with softcopy photo (We will send you via Cloud Drive) , you do not need delivery, thus just select Nothing to pickup, shall your selected package with hardcopy & items less than 1kg (No photo frame or premium album), you can choose By Courier option and leave us your delivery address in Remark Column
Q : Is ther any charges if I bring my own maternity dress?
A: Yes, no matter you're using our maternity dress or bringing your own, we do have charges.
More dresses means we have to take more photos and need more time for the photoshooting session, time is cost.
Q : What means by Bridal Costume ?
A: For Pre Wedding portrait you may be wearing Casual Wear or Wedding Dress/Night Gowns for shooting purpose, the Bridal Costume here means how many pieces of Wedding Dress/Night Gowns would you like to wear for photo shooting.

Each bridal costume you can choose one location for photoshooting, for example, Night Gown for indoor shooting and another Wedding Dress for outdoor shooting.
Q : What is Casual Wear Costume?
A: Casual Wear costume is self-prepare non-formal clothes/dress, in Pre Wedding Portrait sometimes customers would like to have photoshooting by wearing wedding dress as well as casual wear. For Pre Wedding Portrait, Each casual wear costume can choose a location to match with the theme based on customer's preferences.
Q : Why bridal makeup is calculated by the number of costumes for Pre Wedding Portraiit?
A: Every costume might suits different hairstyles/Makeup, therefore we need to change different hairdo/makeup for each costume.
About Promotion/Voucher
Q : If the vouchers are expired, may i still redeem or get refund ?
A: There's no refund or redemption would be entertained for expired vouchers
Q : How do I redeemed my purchased vouchers?
A: Step 1.Go to My Profile > My Voucher
Step 2. Click View Details on the voucher you want to redeem
Step 3. Click Redeem Voucher in voucher details page
Step 4. Choose the date you would like to reserve & click submit.
Step 5. You will get a confirmation email and we will see you at our Studio on the date of shooting ;)
Q : May I know should I just buy one voucher or multiple vouchers for Sisterhood/Friendship related portrait?
A: You have to buy multiple vouchers for Sisterhood/Friendship related portrait, For example, 4 of you would have to buy 4 vouchers.
About Payment
Q : I've made my payment but the status of rservation/vouchers still remain invalid/waiting for payment, what shall I do?
A: You can go to our
Contact Us
page , send us your order id/reservation id together with the payment receipt you've received at your email
Q : Do you offer credit card payment?
A: Currently we only accept online transfer payment method
About Shooting Session
Q : May I know what kind of props should I bring along for the Maternity shooting session ?
A: You could bring along baby toys, shoes, ultrasound photo etc which you would like them to be in your photo.
Q : For Maternity shooting session, what kind of costumes should I bring along ? and what kind of costumes would you prepared for us ?
A: We only provide maternity dresses, but you would have to prepare bra, panties, tube (Black & White) for matching with our maternity dresses. For father's costumes, you would have to prepare yourself, can bring along Black or White color for easy color matching
Q : May I know where is your studio located ?
A: Our studio is located at Setia Alam, Selangor, you can get our exact location/address from
Contact Us
Q : If I am busy, can I come late during the shooting session ?
A: Late comers later than 30mins will be considered as NO SHOW and no refund of deposit would be entertained.
Q : How long a portrait shooting session will normally last ?
A: A portrait photo session would last about 1-2 Hours, except pre wedding portrait might takes about 4-8 hours depends on locations & number of costumes chosen.
Q : Would I need to go earlier than the appointment time for makeup hairdo and dress changing?
A: For portrait session, makeup & hairdo would takes about 1 hour per person, you may estimate more time before selecting the shooting time during the reservation
Q : Is Makeup Service includes Hairdo, Artificial Eyelashes etc ?
A: Yes, our Experienced Professional Makeup Artists will provide Hairdo Service altogether with FREE artificial eyelashes.
Q : What is the difference between local outdoor & overstate outdoor ?
A: Local Outdoor - Outdoor shooting within Klang Valley area
Overstate Outdoor - Outdoor shooting location at other state of Malaysia instead of Klang Valley area.
Q : What does "Costume" means ?
A: Costume means garments / clothes
Q : What means extra costumes ?
A: Extra Costumes means you may wanna have more different garments / clothes for shooting, for example Family Portrait is 1 costume per package, shall you want to change another set of clothes for shooting that would be considered as Extra Costume.
Q : How long would it takes for a portrait photo shooting session ?
A: For Portrait shooting normally takes 1-2 hours based on the numbers of photos customers required and sometimes also depends on the weather.

For Pre Wedding Portrait it would takes longer up to half-day or even full-day depends on total of photos, costumes and weather.
Q : What is the best time for studio / outdoor shooting ?
A: The best timing for Outdoor Shooting would be 5pm - 7pm late noon to prevent harsh shadow, sweating or eyes cant open due to strong sunlight problem.
The best timing for Indoor Shooting would be 11am - 4pm to get the best natural light source for studio shots.

*The suggested shooting time above subject to good weather
About Photograph
Q : What format of photo i will be getting for softcopy ?
A: All softcopy would be in JPEG high resolution format with at least 4000px ( on either width or height of the photos )
Q : How to get my edited softcopy from the photographer?
A: You may check
Profile > Reservation
for your photo processing status, if the status is
Ready
there should be a download link below it, click the link and download all the photo in high resolution softcopy format
Q : May I know how long I have to wait for my photo to be ready?
A: It would takes approximately 4 weeks from the day photo being selected, we will update Profile > Reservation for your photo processing status
Q :
What is the different between
Basic Edit
&
Special Touch Up
?
A:
Basic Edit
- Post-processing on photos with basic adjustment on brightness, contrast, sharpness & color toning.
Special Touch Up
- Post-processing on photos in more details including creating atmosphere of photos, slimming(liquify), skin smoothing, clearing rubbish/passar by at background, correcting flaws on either model, clothing or background after done Basic Editing


Example :

Q : May I know the number of photo for "Friendship/Sisterhood" is number of photo per person or per group?
A: For Friendship/Sisterhood package, it would be total number of photo per group, you could add extra photos from reservation > Add-on though
Q : What means by Prints or softcopy?
A: Nowadays most of the people prefer saving photo in computer/mobile phone for easy viewing, thus we will give customers' photo in softcopy format (Jpeg format) so that they can use it from their computer/mobile. Some people prefer "old school" like to keep hardcopy as well, customer can bring the softcopy hi-res photos and print them at camera shop out there, but we do offer a printing service that printing The Selected Photos in 4R-size (4" x 6") for customer's convenient
Q : What does "Album" means ?
A: Normally we only provide softcopy in our photography packages, shall you want us to Design & Print an album/photobook for you, you may choose from Add-On Section
Q : Why all softcopy photos are not given for Free?
A: We are treasuring every single photo, thus we don't simply give our draft/raw photo to our customer, we will at the very least run through a basic editing & adjustment one-by-one which takes time and efforts, shall you need All Softcopy Photo, you may select from Add-On section.
About Photo Selection
Q : Why do I need to pay for choosing photo by myself ?
A: There're 2 options for photo selecting, you can either let our photographer to choose for you based on their Professional Aesthetic or you can choose on your own through our Online-Selection-System (OSS) via your own laptop/mobile phone.
Online-Selection-System (OSS)
takes extra time to filter, resize each of the original photo before uploading them and it's maintainance costs but it is
CONVENIENCE
. Client no longer need to travel all the way for photo selecting
Simply Tap, Swipe up down left right with mobile phone, you can even lying back on your bed while selecting photos ;)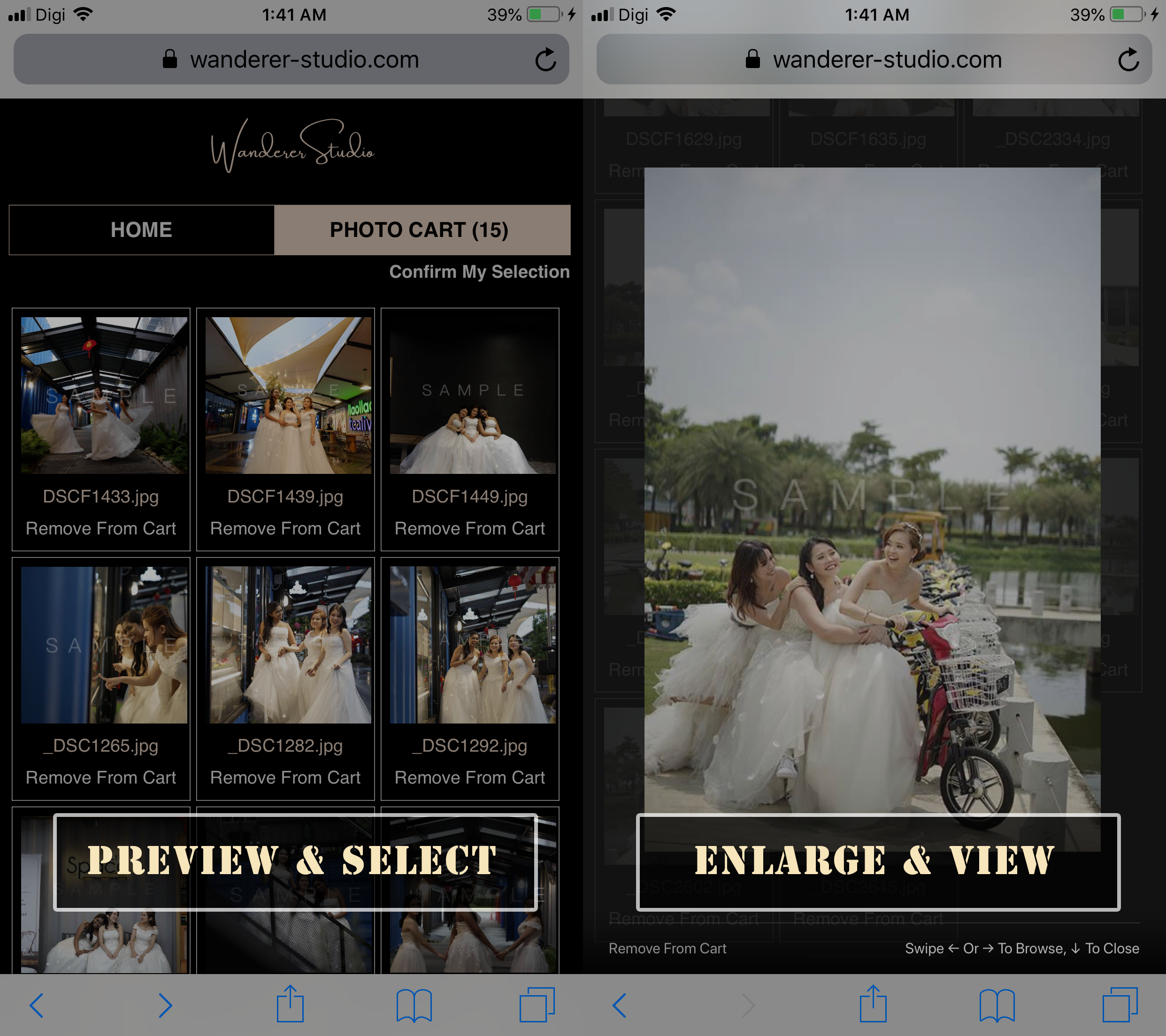 Shall you have any questions/doubts but you cant get to find here, kindly
click here
to leave us your question.